Organic Airbrush Spray Tan
Beautiful. Healthy. Glow.
RBB offers a safe way to achieve your beach ready glow without the use of UV rays or harsh chemicals. We proudly use 100% organic, non-toxic, paragon free, gluten free, vegan(Peta certified) Spray Tan Products while only using the highest quality sunless tanning ingredients because the health of our client's skin is our main priority. You can achieve a sun kissed glow or a just-back-from-vacation bronze!
*Signature Bronze



Customized to your specific skin undertone and desired bronze(Light, Medium or Dark) Our unique spray tan blends are enriched with Aloe Vera and Vitamins A,C, and E as well as natural extracts for added moisture and tan longevity. Your choice of scent will be added to your customized solution. You are then dried with warm air, and dusted with a finishing powder in matte or shimmer to ensure a non sticky comfortable processing time. This spray tan will leave you with a flawless, natural and healthy glow.
$65.00 / Rinse Time: 8-12 hours
(Lasts 7-12 days)
*Rapid Bronze



The rapid bronze is for our gal-on-the-go. It is the same process as the signature bronze but with the convenience of showering in 2-4 hours. This spray tan can have you ready to glow-on-the-glow in just 2 hours for a light bronzy glow, 3 hours for a medium bronze and 4 hours for a dark bronze.
$75.00 / Rinse Time: 2-4 hours
(lasts 5-7 days)
*Upper Body Bronze 
A honey glow for your face, chest, arms and torso.
$30.00
*Just Bronze the Legs 
Do you just need a nice glow to your legs? No problem, bronzed from your waist down to your feet!
$30.00
Airbrush Spray Tan Appointments Include:
Ph balancing prep spray

barrier cream

2-3 coats of solution

choice of scent in Coconut, Orange Ginger or Pineapple

a warm dry air

hair net

nose protectors

disposable sticky feet

choice of finishing powder in matte or shimmer.
Travel Size Spray Tan Maintenance Kit:
$20.00 includes body wash & tan extender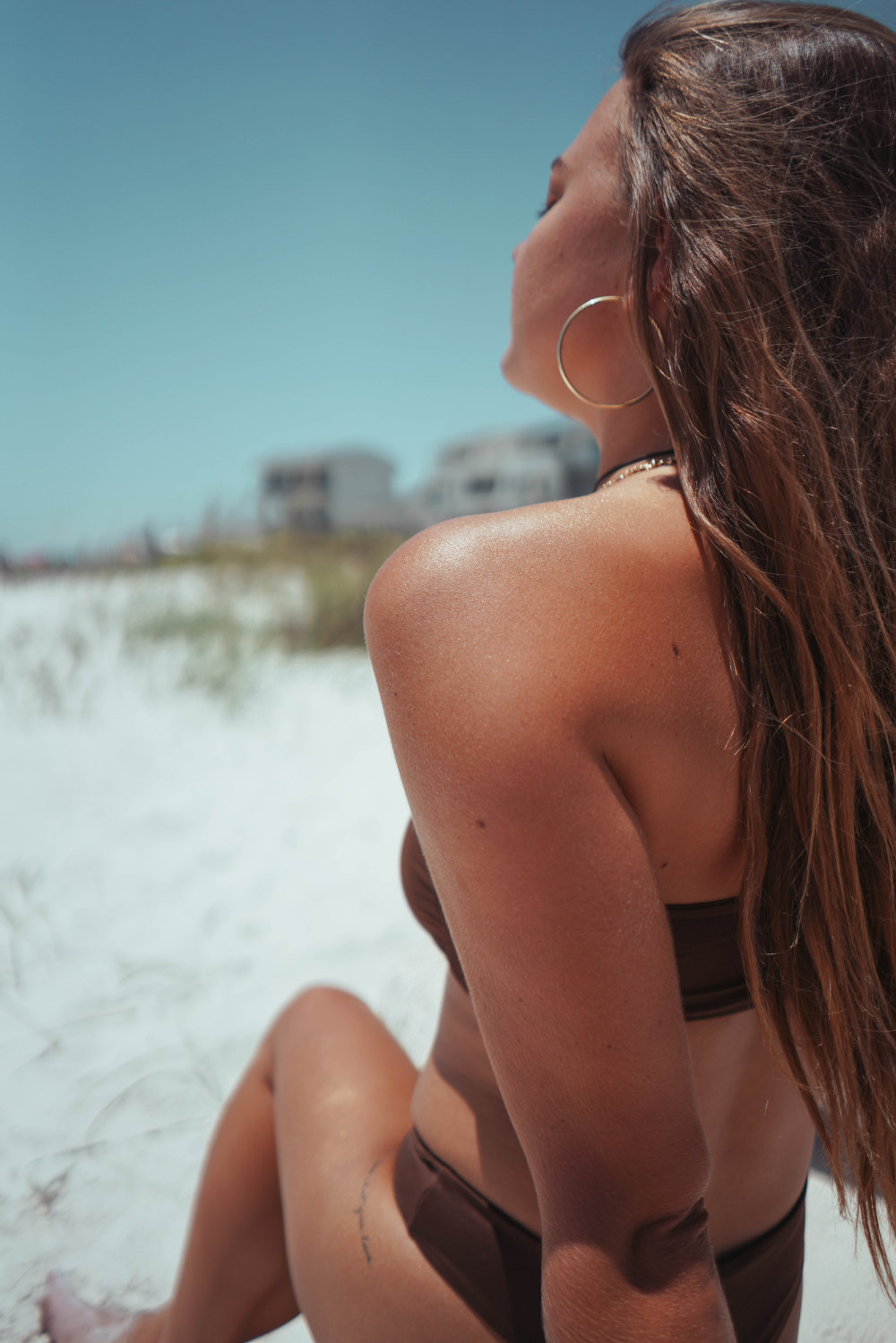 Enhance your tan for even more customized results!
*Color Enhancing Boost (DHA Booster)
DHA drops are designed to give an extra boost of DHA to any solution. Customize your tan to achieve the perfect color. Aloe Vera – soothing properties, hydration, and antioxidant qualities Dihydroxyacetone-derived from sugar cane and sugar beets: DHA reacts with the skins amino acids and upper most layers of the skin.
$10.00
*CBD Concentrate
CBD oils used topically rejuvenate & soothe the skin, noticeably relieving pain, rashes and irritations, reducing ace, reducing inflammation, hydrating the skin. When applied topically, the CBD concentrate will penetrate through the pores and epidermis, absorbing into the body to react with its natural cannabinoid receptor ultimately resulting in balanced skin and pain management, plus it has antibacterial properties. The CBD concentrate is ideal for anyone experiencing:
Joint and muscle pain

muscles spasms

inflammation
$10.00
*Skin Firming
This cutting edge formula is designed to tone and tighten the skin to provide a smoother and more firm appearance to the skin.
$10.00
*Anti-Aging
This formula aids in both the prevention and reduction of the skins aging process by tightening wrinkles on the skin, giving a youthful, refreshing look.
$10.00
*Shimmers
The Shimmer additives provide a glowing effect to the skin. Choose from our Opalescent glow or Golden glimmer formula.
$10.00
☞ Select ONE Spray Tan Additive and receive $5.00 OFF any additional Spray Tan Additives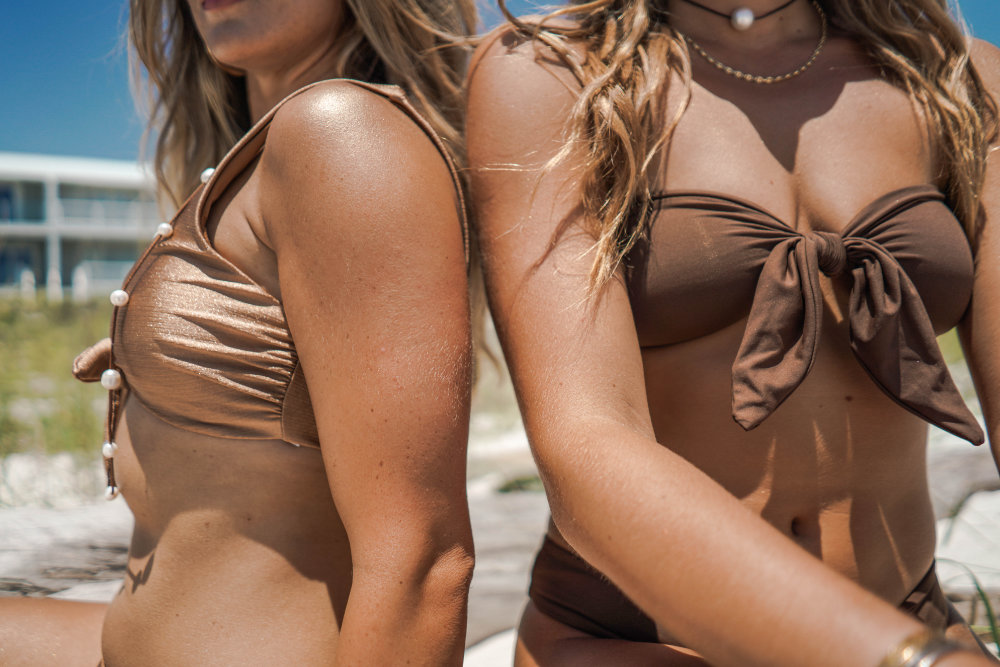 Luxurious Mobile Spray Tanning Service
Enjoy the luxury of getting sprayed in the comfort of your own home or rental on 30A as we bring the glow to you with our mobile airbrush tan. At your appointment, choose either our Signature Bronze Tan in the solution of your choice which you will rinse off in 8+ hours or our Rapid Bronze Tan that you can rinse off within 2-4 hours which your color will be based on how long you wait to rinse off.
Signature Bronze 

$85.00

Rapid Bronze

 $95.00
☞ An automatic 20% gratuity will be added to the final service bill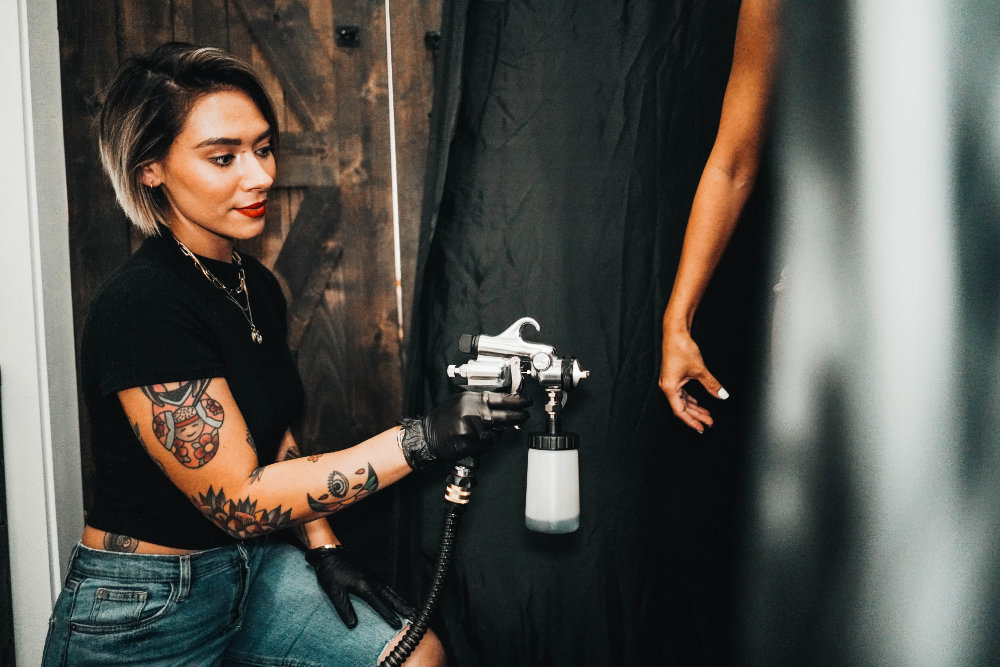 Want a bridal glow for your wedding day?
Try an airbrush spray tan that is the perfect tone for you. RBB recommends that you coordinate your spray tan trial 2 days before your hair & makeup trial.  Often our brides are coming in for several tans leading up to the BIG day. Engagement photos, bridal shower and bachelorette party are all great opportunities to experiment with color to get the perfect look for your wedding day. We also recommend having your spray tan a few days prior to your rehearsal and wedding day. You will also want to consider having waxes, hair, and nail appointments prior to your wedding spray tan.
Signature Bronzed Bride $75.00

Rapid Bronzed Bride $85.00

Signature Bronzed Bride (mobile) $95.00

Rapid Bronzed Bride (mobile) $105.00
☞ Bridal Spray Tan includes a travel size body wash & tanning mist to ensure the longevity of your tan.
☞ An automatic 20% gratuity will be added to the final service bill on mobile services
Bridal & Spray Tan Parties
We bring the tan to you with our mobile service!
Book a group of 5 or more for your bridal or spray tan party on 30A and everyone receives $10.00 off their spray tan.

Book a group of 6 or more for your bridal or spray tan party on 30A and everyone receives $10.00 off their spray tan and we bring the champagne.
☞ An automatic 20% gratuity will be added to the final service bill
Preparation & Appointment
It's super quick, but this will help!
While the spray tanning process is quick and easy, there are a few things you should know in order to prepare your skin. By following these instructions, your spray tan will look great and last longer.
SCHEDULE A FEW DAYS BEFORE YOUR EVENT:
Your skin needs time to fully absorb the spray tan. If you are getting sprayed before a big event, give your body 2-3 days to adjust to the tan to ensure your skin glows in the spotlight.
SHOWER BEFORE YOUR APPOINTMENT:
If your skin is wet and your pores are exposed, the spray tan formula will not stick to your skin properly, leaving you with a patchy, discolored tan. Finish off your shower with a cool rinse to close your pores.
☞ Do not wear any lotions, makeup, deodorants or perfumes prior to your appointment. This allows for the solution to have the greatest impact with natural skin, and not repel any solution.
EXFOLIATE BEFORE YOUR APPOINTMENT:
Exfoliating and shaving several hours ahead of your appointment is very important for a flawless tan outcome. Use oil free products.
COMPLETE ALL OTHER BEAUTY SERVICES BEFORE YOUR APPOINTMENT:
Please be sure to take care of all beauty services, such as waxing, manis/pedis, facials, massage etc. before your appointment to avoid your spray tan rubbing off.
WEAR LOOSE-FITTING CLOTHING TO YOUR APPOINTMENT:
Loose-fitting dark colored clothes, such as a maxi-dress and flip flops/sandals to ensure that none of the freshly applied spray formula will rub off. Avoid tight fitting clothing such as jeans, yoga pants and socks.
DURING YOUR APPOINTMENT:
Adults 18+ have the option to tan topless, nude, wearing a swimsuit (preferably bandeau tops and no strings), disposable bandeau top & bikini/brazilian bottom (provided by us) or whatever you feel comfortable in.

To ensure that your spray tan lasts as long as possible and you maintain your bronzy glow, please follow these aftercare instructions.
AVOID WATER AND VIGOROUS ACTIVITIES:
Do not allow your skin to come in contact with any water or product until your tan has fully set (this will depend on which solution you had applied). This means no make-up, moisturizer, and no activities that will cause you to sweat until after your first shower.
AVOID TIGHT CLOTHING:
To ensure a flawless tan, avoid wearing tight clothing such as socks, jeans, bras, spandex, yoga pants in order for your tan to properly develop.
REMEMBER:
When you take your first shower, use warm water and NO SOAP!  You will probably see some color wash off so rinse your tan until the water runs clear. Don't worry. This is quite normal as it is only a color guide that the spray tan technician uses when the tan is applied.  You will be left with a gorgeous tan. Pat your skin dry (rubbing your skin may rub off your tan)
MAINTENANCE RECOMMENDATIONS:
Avoid the ocean, hot tubs, and swimming pools if possible since this can reduce your spray tan.

Moisturize twice a day to prolong the longevity of your tan. (preferably our tan extender)
How long does the Airbrush Spray Tan last?
Spray tans can last anywhere from 7-14 days. The tan resides in your outer layer of skin so the more your skin exfoliates the faster if wears off. Activities such as showering, swimming, exercising and exfoliating makes your tan wear off faster.
Does the Airbrush Spray Tan leave me "orange" looking?
Absolutely not! Product selection is our highest priority. Between a great product and a flawless application, you are sure to be perfectly bronzed with your tan.
How can I make my Airbrush Spray Tan last longer?
Exfoliating prior to your spray tan appointment will make your tan last longer. The more dead skin you shed just before you get sprayed, the deeper the tan can penetrate. Keeping your skin moisturized is also extremely important. You should apply moisturizer twice daily.
How does Airbrush Spray Tan work?
Sunless tanners and spray tan solutions contain Dihydroxyacetone or DHA. This is a sugar derived from sugar cane and sugar beets that interact with amino acids in the top layer of your skin to produce pigment called melanoidins; that's the brownish tanned look our products achieve, leaving you with a sun kissed tan.